Waste Pyrolysis Equipment in Waste Management with CE & ISO
Certificate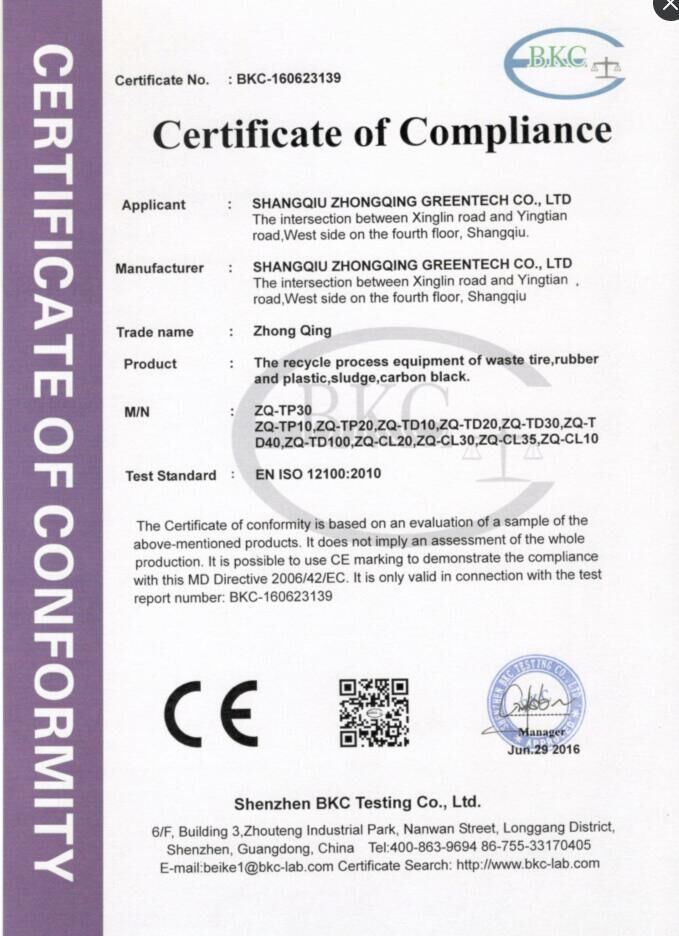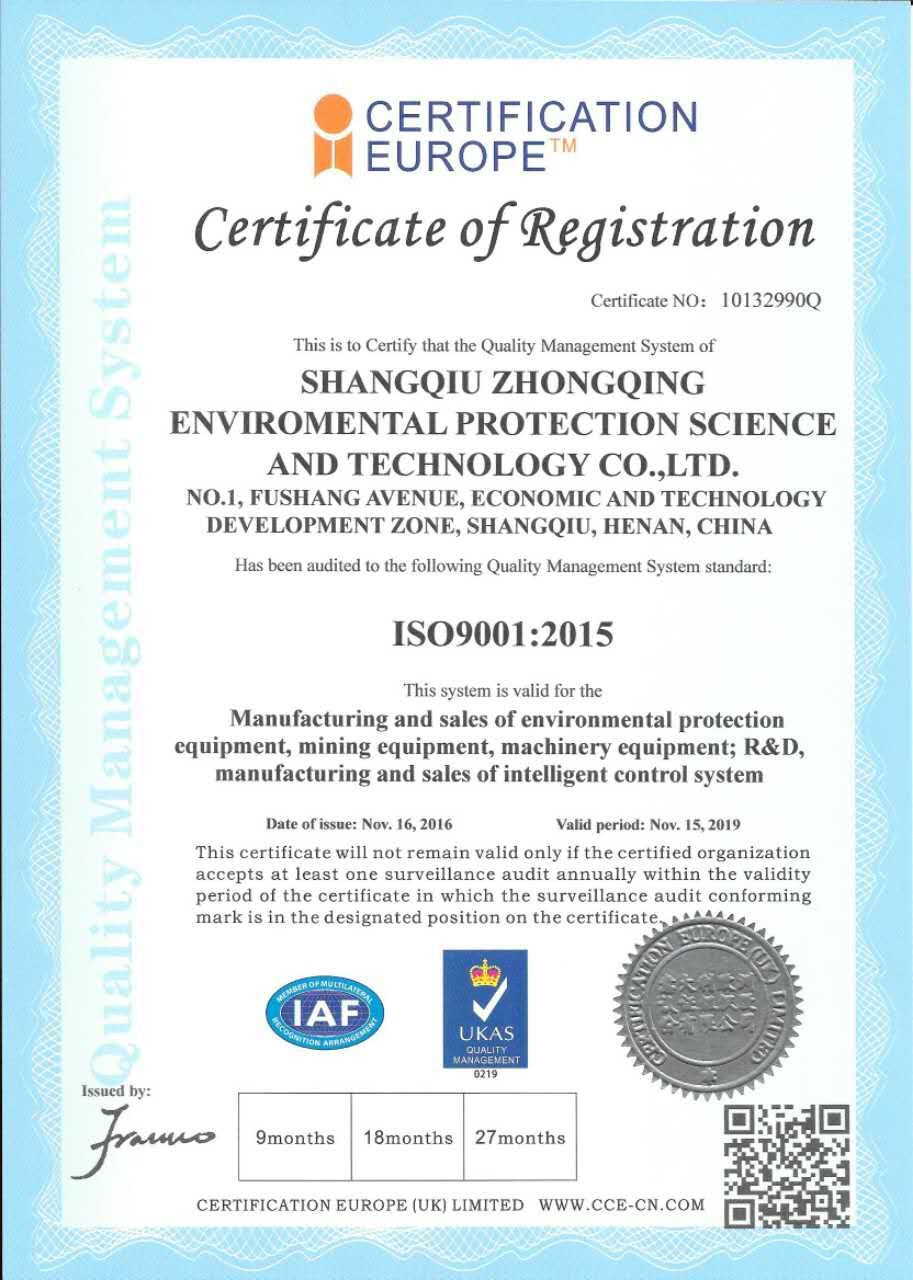 Com
pany Brief Introduction
Shangqiu Zhongqing Greentech Co,.Ltd is a professional institution engaged in the recycling and utilization of waste resources which includes scientific research, design, development, manufacturing, installation, commissioning, training and customer service. The headquarter of the company is located in Beijing. Our main equipment is waste tires equipment, waste oil sludge treatment equipment, living garbage equipment, electronic waste equipment, medical waste equipment, petrochemical waste equipment and related waste recycling equipment. We also undertake government environment project like engineering design, construction and testing date.

Product Description
1. ZQ-7/8 pyrolysis plant consists of five main system: pyrolysis system, heating system, cooling system, gas recycling system and smoke scrubber system.
1). Pyrolysis system: reactor
----The waste tyre, rubber and plastic can be cracked and be gasified in the reactor.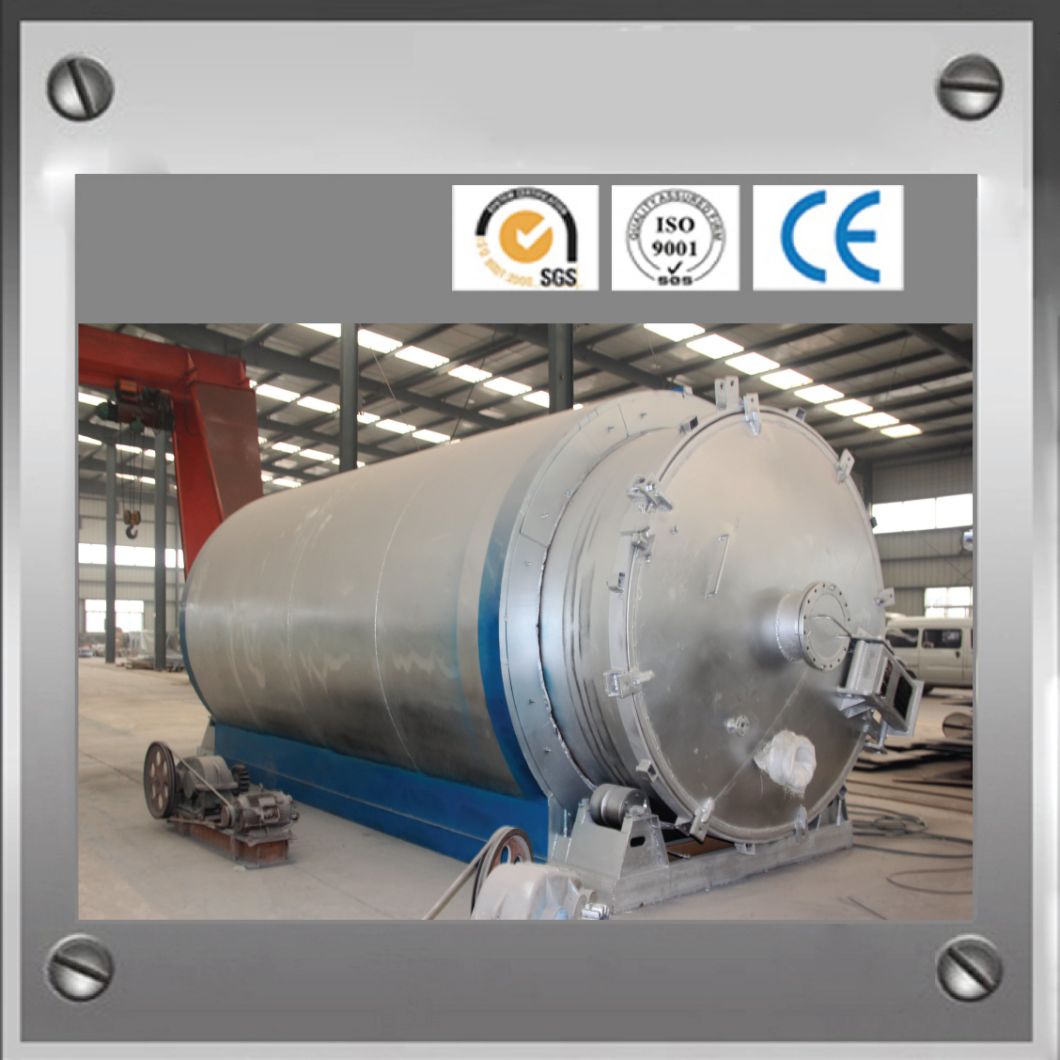 2). Heating system:
---two heating rooms and direct heating.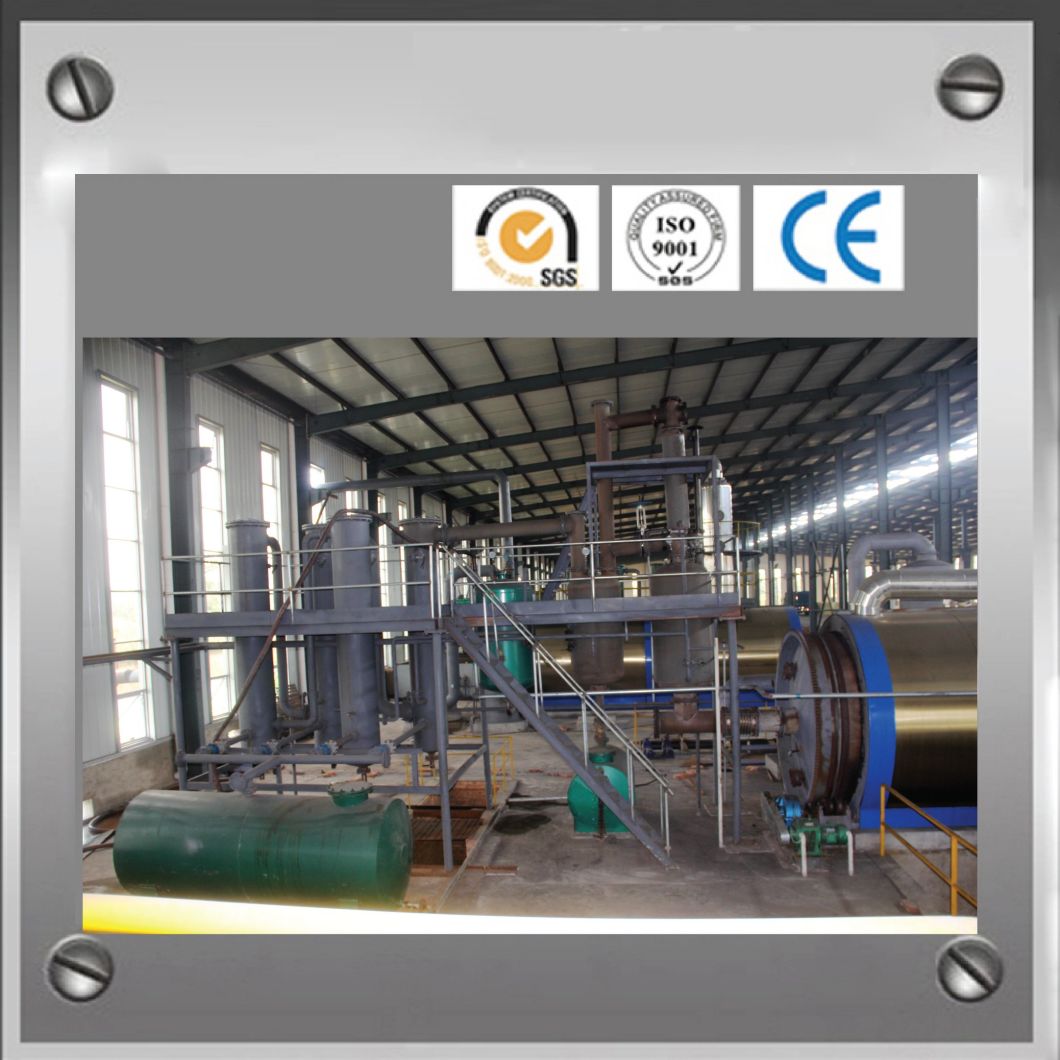 3). Cooling system: condensers, cooling pool and cooling tower
---4 vertical condensers to convert the oil gas into oil.
4). Gas recycling system:
----The function of this system is to recycled the gas which cannot be liquefied for buring as fuel.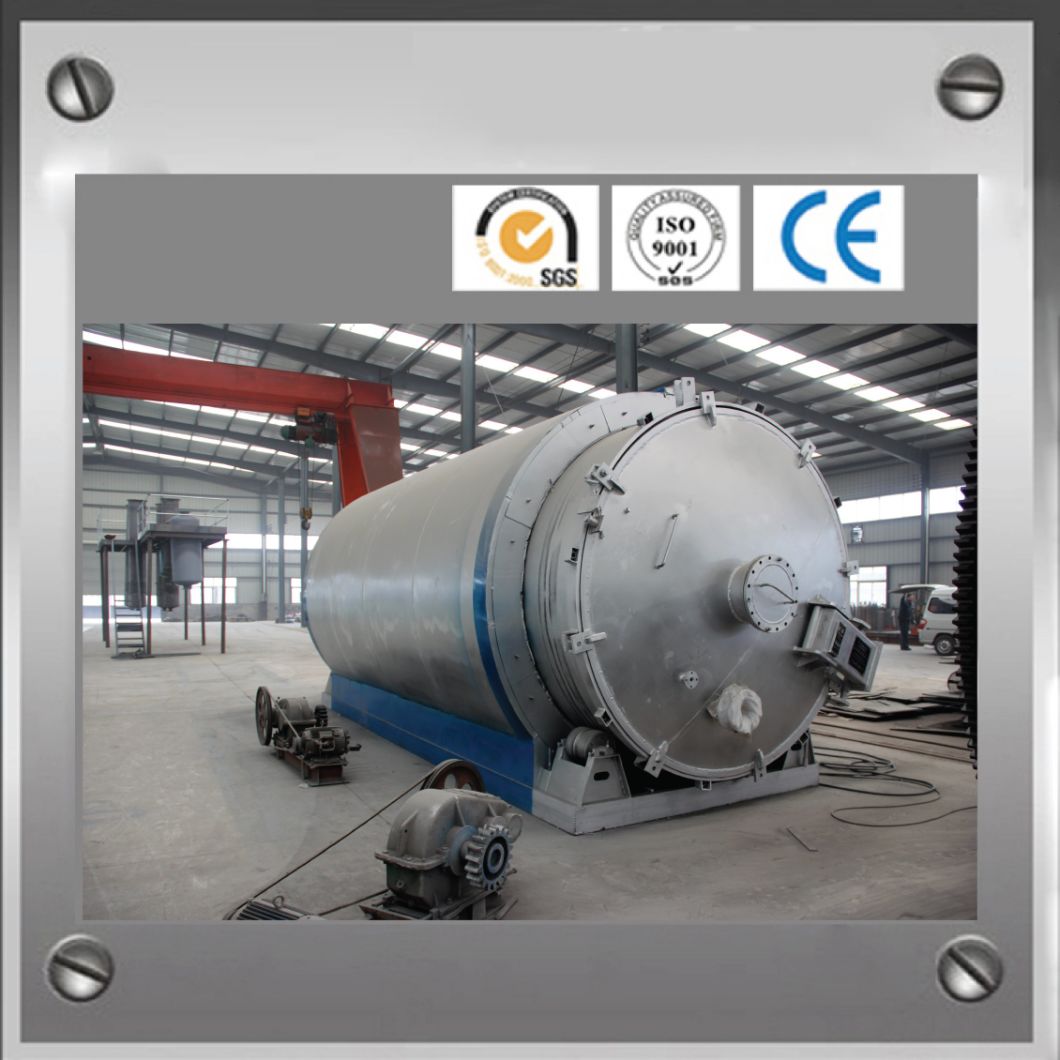 5). Smoke scrubber system:
---its function is to remove the acids, bad smell and dust from the waste gas, so the gas will be more clean and environmental friendly.
2.Outstanding Features of ZQ-7/8 Pyrolysis plant
1). Full open door design: Speedy loading in and steel pulling out; Easily cooling down after one batch finished, saving time; No leaking with special high temperature flexible graphite packing.
2). Unique Craft Condensers: High condensing efficiency with more oil output. Good quality oil, longer lifetime, and easy to clean.
3). National Patent Unique Smoke Scrubbers: More efficient removal of the acid gas and dust of the smoke by neutralization, purification and absorption, environmental friendly without pollution.
4). National Patent Carbon Black Discharging System: Speedy fully enclosed Auto-discharging under high temperature, avoiding carbon black pollution, saving time.
5). Automatic Submerged welding technology, ultrasonic nondestructive testing, both manual and the automatic safety devices.
6). Sync Gas Recycling System: Fully burned after recycling and utilization, saving fuel and preventing pollution.
7). Direct Heating System: Enlarging heating square to lengthen the lifespan of the reactor and easy to control the temperature.
8). National Patent, unique heat insulation shell; high efficiency temperature keeping, excellent energy-saving effect.
3. Process time of 10 tons pyrolysis plant
Process Time of 10 tons Pyrolysis Plant

Feeding

1~2h

Heating

9~10h

Cooling

3~4h

Discharging

1~2h

Steel Pulling Out

20minutes
4.Final products:
Steel wires, fuel oil, carbon black and sync gas...
The usage of the final products:
Steel wires: 12%-15% from tyres, to be sold or reprocessed.
Fuel oil: Widely used in industries such as steel and iron factories, ceramics
or chemical industries or hotels, restaurants etc. as fuel oil, or used
for heavy oil generators t

o get electricity.
Carbon black: Crude carbon black can be used for construction bricks, or widely
used as industrial carbon black N774, N660, N330 or color carbon after
deep-process.
5.Feasibility Analysis for your reference:
Note: A. This analysis is made with capacity of 10Mt tyres per day per batch.
B. Please modify relative prices according to your actual market conditions.
| | | |
| --- | --- | --- |
| NO. | ITEM | DETAILS |
| 1 | DAILY CAPACITY | 10MT |
| 2 | Raw Materials | Waste tyres |
| 3 | Cost of tyres | 10T*1500¥/MT=15000¥ |
| 4 | Cost of Catalyst | 10MT*0.3%*5000¥/MT=150¥ |
| 5 | Labor (DAILY) | 4P*150¥/D/P=600¥ |
| 6 | Electricity & Water | 200¥ |
| 7 | FUEL COST | 0.45MT*1200¥/MT=540¥ |
| 8 | Other | 100¥ |
| 9 | Total Cost | 16,590.00¥ |
| 10 | Oil Income | 10MT*40%*4300¥/MT=17,200.00¥ |
| 11 | Steel Income | 10MT*13%*1400¥/MT=1,820.00¥ |
| 12 | Carbon Income | 10MT*35%*300¥/MT=1,050.00¥ |
| 13 | Gross Income | 20,070.00¥ |
| 14 | Daily Net Income | 20,070.00¥−16,590.00¥=3,480.00¥ |
| 15 | Monthly Net Income | 3,480/Day*25D=87,000.00¥ |
| 16 | Yearly Net Income | 87,000.00¥/M*11M=957,000.00¥ |
Packaging & Shipping
1.Packaging Detail:
All the goods are packed according to export standard with no pollution:
2. Shipping Detail: 30 days after first deposit
Our Services
Pre-sales Service:
The wide product range enables us to provide our customers with machines or
Complete processing plants.Based on our customers' request and budget, our experts make efficient,
Reliable solutions.Following customers' order we produce strictly, what's more, before placing
The order every customer has the chance to visit working machines or complete plant in the site.
After-sales Service:
1.Quality warranty period: One year warranty for the reactor ,and lifetime maintenance for complete set of machines. pay the double air tickets, accommodation and food.
2.According to the requirement of the buyer, our company sends engineers for installation and commissioning in buyer's site including the training of skills of buyer's workers on operation, maintenance, etc.
3.Supply layout according to buyer's workshop and land, civil works information, operation manuals, etc. to the buyer.
4. For the damage caused by the users, our company provides the parts and accessories with cost price.
5. Our factory supplies the wearing parts with the cost price to clients.