Prefab Black Granite Kitchen Countertop stone white marble countertop slab Direct from Chinese Factory, Best Price!

Usage: Kitchen Countertops, Vanity Countertops, Countertops Blanks, Table tops, Bar Top, worktop, desktop etc.

Material: natural stone, granite, Marble. chiva white marble, carrara, estern white, white limestone, beige, artificial marble, etc.

Finishing: Polished, Honed etc.

Edge-grinding type: Full Bullnose, Laminated bullnose, ogee edge, laminated ogee edge, Half bullnose, Laminated half bullnose, Flat edge(Eased edge), radius bevelled edge, bevelled edge, Non-laminated bullnose. etc.

Size:
A. Kitchen Countertops: 96X26X3/4", 98X26X3/4", 108X26X3/4", 108X36X3/4", 108X41X3/4" 37X37X3/4";
Island Tops: 30"X76" etc;
Countertops Peninsula: 36"X78", 39"X78", 28"X78" etc.
Countertop Snack Bar: 12"X78", 15X78" Island( Snack Bar)
B. Bar Tops: 98X12, 98X16 etc.
C. Vanity Countertops: 25X22, 31X22, 49X22, 61X22, 73X22 etc, straight or bowl front, or curved;
D. Table Tops: D=24", D=30" etc.
3) Thickness: 3/4" (2cm) or 1/4"(3cm).
Irregular /Curved shape and customized design are available, we will find out a best solution for your project !

Why choose Chiva stones?
Own quarry factory in China, specialized in stone fabrication for more than 10 years.
Hundred of stone materials for your selection.
Lowest factory price to allow your utmost profit !!!
Exquisite hand carving.
Customized design is available.
Good quality check before shipping.
Durable wood carton packing, on time delivery.

Chiva stones products:
We can supply all kinds of stones products, such as marble/granite tiles, slabs, steps and risers, window sills, door frames, columns, pavements, statues, stone veneers, wall facade/claddings, countertops, washbasins, fireplace surround, medallions, mosaics, headstones, pebbles. etc.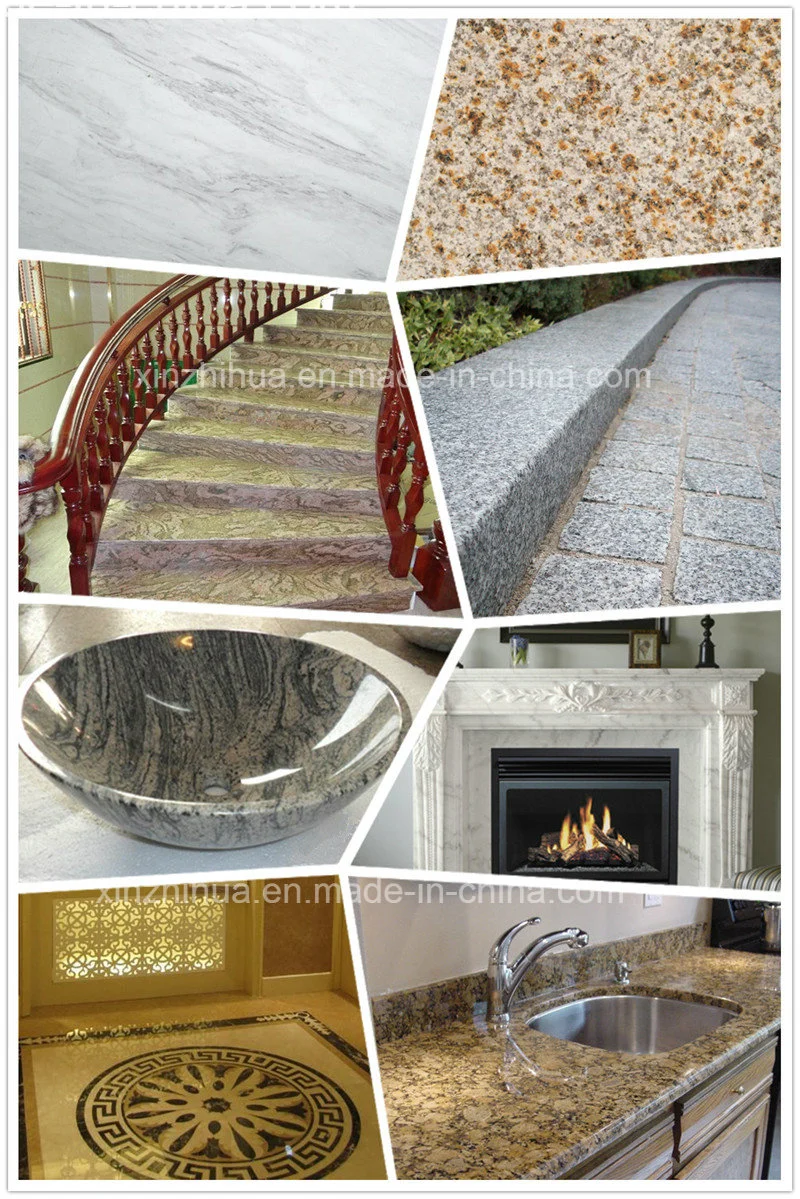 Chiva stones in trade shows